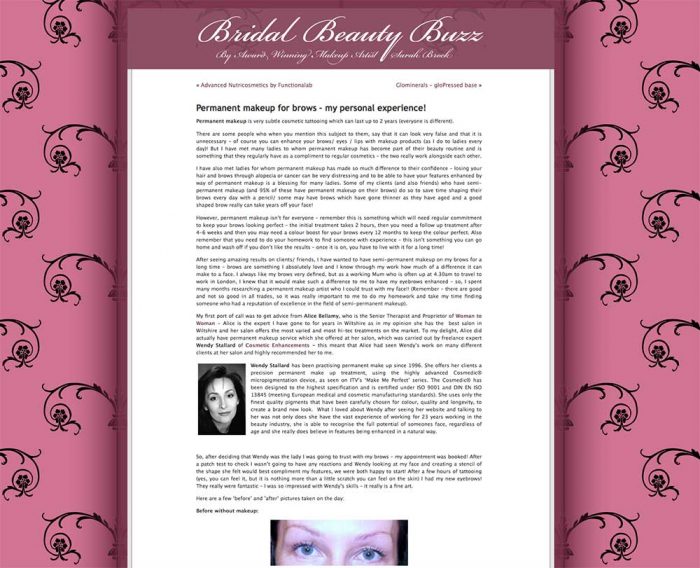 Permanent makeup for brows – my personal experience!
Award winning makeup artist Sarah Brock, writes on her beauty blog.
There are some people who when you mention this subject to them, say that it can look very false and that it is unnecessary – of course you can enhance your brows/ eyes / lips with makeup products (as I do to ladies every day)! But I have met many ladies to whom permanent makeup has become part of their beauty routine and is something that they regularly have as a compliment to regular cosmetics – the two really work alongside each other.
I have also met ladies for whom permanent makeup has made so much difference to their confidence – losing your hair and brows through alopecia or cancer can be very distressing and to be able to have your features enhanced by way of permanent makeup is a blessing for many ladies. Some of my clients (and also friends) who have semi-permanent makeup (and 95% of these have permanent makeup on their brows) do so to save time shaping their brows every day with a pencil/ some may have brows which have gone thinner as they have aged and a good shaped brow really can take years off your face!
However, permanent makeup isn't for everyone – remember this is something which will need regular commitment to keep your brows looking perfect – the initial treatment takes 2 hours, then you need a follow up treatment after 4-6 weeks and then you may need a colour boost for your brows every 12 months to keep the colour perfect. Also remember that you need to do your homework to find someone with experience – this isn't something you can go home and wash off if you don't like the results – once it is on, you have to live with it for a long time!
After seeing amazing results on clients/ friends, I have wanted to have semi-permanent makeup on my brows for a long time – brows are something I absolutely love and I know through my work how much of a difference it can make to a face. I always like my brows very defined, but as a working Mum who is often up at 4.30am to travel to work in London, I knew that it would make such a difference to me to have my eyebrows enhanced – so, I spent many months researching a permanent makeup artist who I could trust with my face!! (Remember – there are good and not so good in all trades, so it was really important to me to do my homework and take my time finding someone who had a reputation of excellence in the field of semi-permanent makeup).